Automotive Industry Trends for 2022 and Forward
Like every other industry, the automotive industry sees massive changes these days. The demand for combining connectivity technology, evolving mobility, restructuring car models, and switching to electrification is creating a turning point for the automotive industry.
As 2022 begins, brands are innovating and evolving at a rapid rate to suit consumer needs and adapt to available resources. So, what is changing in 2022?
This post discusses the top automotive industry trends to look forward to.
1. Renowned Automakers Embrace Over-the-Air (OTA) Software
This trend made headlines last year as automakers continue to focus on software more than hardware. With this software, cars will be able to do a lot of automation, including capability upgrades, feature unlocks, and more.
In 2022, more automakers will provide over-the-air software updates as their primary digital revenue channel.
2. Identify Defects in Semiconductors
As technological advancement increases, companies pay more attention to adding software to vehicles. This only points to a solid partnership between automakers and technology companies.
The rise of electric vehicles means specialized software will be a massive investment for tech companies. In 2022, you will see more and more technology partnerships between tech companies and automobile manufacturers.
3. Seeking Solutions from Local Sources
Electric vehicle acceleration is another automotive industry trend you will see more in 2022. EVs are making headlines in recent years, with Elon Musk's Tesla and other top automobile manufacturers shifting to electric vehicles.
If there is any surefire trend in 2022, electric vehicles will continue to grow. Tesla is now the third most valuable auto brand today with $46 billion in brand value. Nio has grown 79% in China following a spike in EV sales this year.
The emergence of electric vehicles in Europe means that EV cars have come to stay. And as the global community strives to achieve a reduction in carbon emissions in 2030, we are likely to see more EV brands in 2022.
4. Autonomous Self-Driving Vehicles
We've seen autonomous self-driving vehicles in recent years. Expect to see more in 2022. Autonomous self-driving vehicles offer a lot of benefits, including:
Enhances safety
Expands the last-mile delivery scope
Improves fuel efficiency by 10%
Reduces downtime
Reduces driver fatigue & driver negligence-related accidents
Reduces CO2 emissions by 42 million metric tons per year
Recently, Tesla and many trucking companies have installed self-driving technology in various locations. Don't be surprised to see a fleet of autonomous self-driving trucks next to you in 2022.
5. Hardware Sourcing will be Reviewed
As a result of the shortage in chips, automakers are reviewing inventory strategies. Because chip manufacturers are struggling to meet up with chip production, the use of automated vision inspection or AOI solutions will be adopted to ensure the quality of semiconductors and an increase in the delivery speed.
In 2022, many automakers will consider designing their own chips to avoid disappointment.  This, of course, will lead to a higher demand for semiconductor manufacturing equipment, including AOI machines.
Truck platooning is when multiple trucks use vehicle-to-vehicle connectivity to drive close behind each other while travelling at high speeds.
Fuel efficiency will increase when trucks drive in this type of formation. As fuel price increases due to the ongoing Russia-Ukraine war, truck platooning will become more common in 2022.
7. Multiple Cars will Interact
Similar to truck platooning, multiple cars will start interacting via the Internet of Things (IoT). Connected cars communicate bidirectionally using wireless means. It provides safety, comfort, and a convenient multimedia experience.
Anyone can access the web, send digital data, vehicle health reports, and share data, among other functionalities using predictive intelligence and maintenance technology.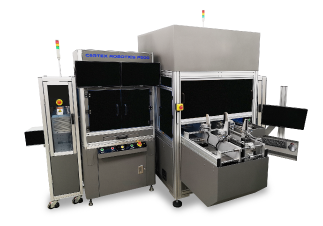 Nova AOI, a perfect AOI solution for critical automotive components and parts inspection, plays a vital role in the automotive industry.
It is fully automatic and it comes with intelligent inspection software that contains multiple inspection capabilities to ensure higher efficiency, quality and productivity in the manufacturing of critical automotive parts such as car emblems, car fascia, car key fobs, and many more.
Other capabilities of Astra-AOI include:
Silkscreen printing inspection: missing printing, smearing, excess, poor printing, incomplete printing, particle, smearing.
Surface cosmetic inspection: chipping, dented, contamination, fibre, crack, scratches, fisheye, stain.
3D measurement + flatness & thickness: diameter flatness, pitching, height & width, thickness, positioning.